Gaming Desktop Base Package
Our Gaming Base Package gives you access to a complete performance gaming desktop set-up for an incredible price. Built on an Intel i3 processor, 8GB DDR4-3200 Gaming RAM and a Nvida GeForce 2GB GT 1030 graphics card, this package includes a Thermaltake Versa H17 Gaming Case, Cooler Master Devastator 3 RGB keyboard & mouse combo, Logitech speakers and a 24" AOC 144Hz 1ms genuine gaming monitor. The unsung heroes of gaming rigs are good power supplies, and this package comes with a Corsair 550w 80 Plus power unit for reliability and longevity. Of course, you can choose from many options prior to checkout to make a custom beast of your own.
Features:
Windows 11 Pro 64-bit

Intel i3 10105 Processor

Nvidia GeForce 2GB GT 1030 Graphics Card

500GB NVMe M.2 SSD (3,500MBs/3,000MBs R/W)

8GB DDR4-3200 Gaming RAM

Thermaltake Versa H17 Gaming Case

550w 80+ Power Supply
AOC 24" 144Hz 1ms Gaming Monitor

9 USB Ports

(

3.2/3.0 & 2.0)

Cooler Master Combo

Logitech Speakers

2-Year Hardware Warranty

Free Delivery
Full Package:
$1,229
Free Delivery + 2 Yr Warranty
Need to change something?
You can change/add any of the following options:
Processor
Graphics Card
Case
Screen
RAM
Hard Drive
NVMe M.2 SSD Options
Office Pro 2021
Power Supply
Keyboard + Mouse
Speakers
Wi-Fi + Bluetooth
DVD Burner
Blu-Ray Burner
HD Webcam
Warranty Length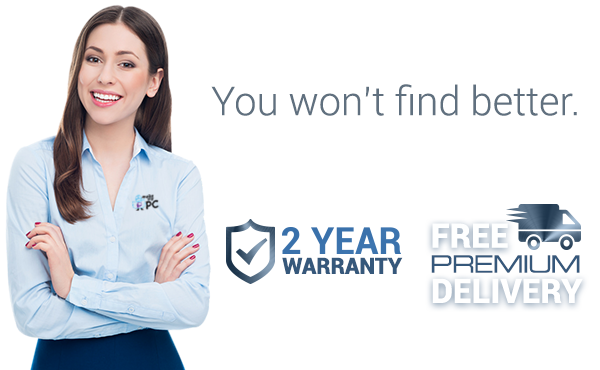 Have a question about this PC package? Ask us now.
Pro Desktop Packages
Our choices for home, student, office or professional use. Change anything you like.
Gaming PC Packages
Plug-and-play with our selection of the best value gaming rigs. Change any specs you like.